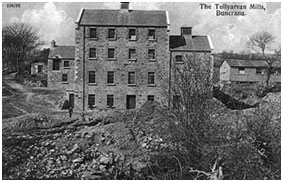 Tullyarvan Mill stands as a testimony to the manufacturing past of Buncrana stretching back to the mid 1700s. The original mill was built at a time when Britain's economy was growing due to the prosperity generated by the Napoleonic Wars. In 1810 James Wilson had taken over another mill in the Tullyarvan townland at Swan Park which, including outworkers, employed an incredible 600 people manufacturing duck and sail cloth. Within a few years he had come into possession of the cornmill where the present Tullyarvan Mill stands.
After his enterprise failed in the 1820s John Kennedy took over the mill. By the 1850s the mill was used as a chemical works by John Hamill, who produced iodine from kelp. After his departure it became a hattery for the London firm of Ashton. In 1919 a local man, Andrew McGlinchey, rebuilt the present mill and formed the Tullyarvan Milling Company Ltd. which was taken over by Swan's in 1929 to make cattle and poultry feed. After the Second World War production ceased and the mill was used only for storage until 1985.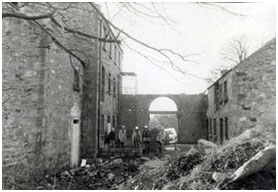 Early in 1984 a group of concerned local people got together to discuss ways of trying to generate business and tourism opportunities, encourage cultural initiatives, and to aid employment prospects in the Buncrana area. They came up with the idea of purchasing the 200 year old mill, along with the millrace, and the lands attached to it. After almost 7 years of hard work, the group finally achieved their goal. Her Excellency, President Mary Robinson, officially opened "Tullyarvan Mill Cultural & Exhibition Centre" on May 2nd, 1992.
Tullyarvan Mill is a not-for-profit organisation and a registered charity. The Mill is run by a voluntary Board of Directors. They oversee the development and day-to-day operations of the Mill. The Mill presently has 3 fulltime and 2 part-time staff who are funded by the Department of Community, Rural & Gaeltach Affairs.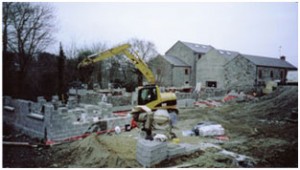 In 2005 Tullyarvan Mill was successful in receiving grant aid from the International Fund for Ireland for a 51-bed hostel and residential centre. At the same time Tullyarvan Mill also received grant aid from the EU Programme for Peace and Reconciliation to build six new business units. With investment from Tullyarvan Mill Project itself and the Department of Health & Children the Mill has also added a new auditorium and conference centre.
This three-pronged approach seeks to address social exclusion and unemployment by supporting community activities, small enterprises and tourism, whilst building for the future through fostering cultural and educational development. Today the Tullyarvan Mill Project is a vibrant thriving community resource, and a valuable amenity for the community of Buncrana and Inishowen.